Kevin Durant can't just let anything go.
Despite being one of the best players in the world, Kevin Durant is also one of the most sensitive. We all remember his burner account scandal in which he was defending himself on Twitter from the hoards of fans who were giving him hell for joining the Golden State Warriors. To this day, Durant still receives criticism for that decision, although very few people lay blame on the Warriors. Well, this weekend during a San Antonio Spurs and Cleveland Cavaliers broadcast, Richard Jefferson did just that.
Jefferson was a part of the 2016 Cavs team that upset the Warriors in the finals. During the broadcast, he said "Where I come from in the park and the street when you lose to someone the first words that come are 'run it back.' They didn't do that. They were like 'We need to reload. We're going to get our big brother.'"
Durant clearly took exception to the comments as he defended his Warriors squad in the House of Highlights Instagram comments section, saying "Everybody from the streets now."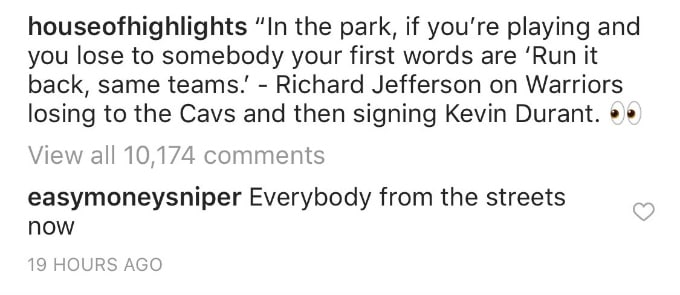 That's when Jefferson replied with a lengthy comment.
"My single mom left L.A. trying to make sure one of her 3 boys didn't get shot up killed on the same corner my dad did," Jefferson wrote. "I think we can both relate to single moms with that struggle."
Considering just how great Durant is, he should probably just avoid these altercations. Although it appears as though he's happy to engage in the smoke.